Phone services over the Internet (VOIP)
VOIP stands for Voice Over Internet Protocol
You can purchase telephone service that operates using your internet service instead of a standard telephone line
Can I use my computer while on the phone?
Yes, you will be able to use a computer or any other devices connected to the internet while using the phone.
Will 911 services work with a VoIP phone?
Yes, the 911 services feature is included with the phone service, this service (called E911) is provided by the third party Northern911.
What is a Softphone?
A softphone is a software phone application that is typically installed on a cellular phone. A benefit of using a softphone application is that you can make phone calls from a location that has a good internet connection but poor cell service.
Can my current phone number be used?
Yes, we can port your existing phone number over to our service. This requires some additional paper work and time required for the existing provider to release the phone number to us.
Can I use my regular phone for VoIP?
We are currently testing a device that will convert VoIP digital phone signals to older style analog phone signals allowing the use of older style phones. The call quality when using this device will not be as clear as using a VoIP phone.
How much bandwidth does a VoIP call use?
VoIP requires broadband service primarily for the low latency connection but uses very little actual bandwidth (speed). If the internet connection is too slow you may experience issues such as audio delays from either end, audio cutting out or phone calls being dropped.
Will my VoIP phone work without power?
The VoIP phone requires both power and internet, if you lose internet connectivity when the power is out then the phone will not work.
Making a long distance call.
The system assumes that long distance calls will be made to North American phone numbers and pre-appends 1 to long distance number dialed. Due to this rule you do not need to enter the 1 before making any long distance calls to North American numbers. Like wise the system assumes that 902 is the area code and therefore it does not need to be entered. If dialing a number within the 902 area code you will only need to enter the normal 7 digit phone number. If you are dialing a number outside the 902 area code, you would enter the area code along with the 7 digit number.
How to change voice mail greeting.
Go to your voicemail by dialing 9999 or pressing the Voice Mail key and enter your pin code. Select option 9 for voice mail options and then select menu option 5 to change the personal greeting.
Transferring a phone call from one phone to another phone.
Each phone has a unique extension number and works independently of one other, 2 separate active phone calls can be made from 2 phones at the same location. Due to this functionality a 2nd phone can not be picked up and automatically be on the call from the 1st phone and must be transferred to the 2nd phone. Transferring a call from one phone to another phone is performed by doing the following: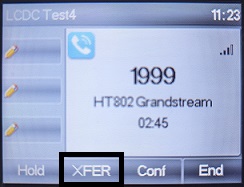 Enter the number or extension you wish to transfer to.
Wait for the dial to complete or press the Dial soft key
Press the XFER soft key a second time to complete the transfer
Hang up the handset
The caller will be on hold while the transfer is taking place and will automatically be taken off hold when the transfer completes.
Desk phone Quick Reference